Mowunmi Owodunni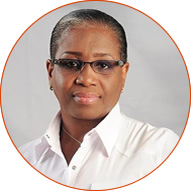 Mowunmi Owodunni is currently the Managing Director at STB-McCann.
After over twenty five years' marketing communications experience, at mostly management and senior management levels, she has evolved from an advertising creative specialist to a marketing communication strategist, planner and executor. She has worked on global and local brands of repute and have been part of their market growth and success.
Her current focus is thus to discover even more professionally rewarding paths and opportunities along the Marketing/Communications terrain, while placing her experience at the disposal of world class organisations that appreciate the quality of it.