ORANGE COPY AND CONTENT DEPARTMENT (OCCD)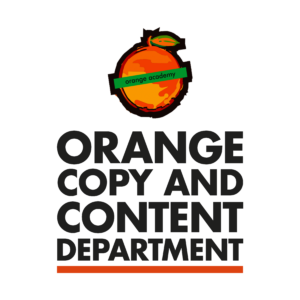 COURSE OVERVIEW
Communication is the heart and soul of branding. With the explosion of different communication channels in today's world, brands are becoming increasingly reliant on skilled communicators who can engage and persuade customers to stay true to them.
In the Orange Copy and Content Department, we focus on two important forms of communication that are relevant for this day and age.
We teach copywriting with a special focus on the basic pillars of ad creation. This includes the how-to of poster copy and script writing for radio and TV commercials.
We also teach content strategy with a special focus on social media management. This includes the how-to of professional social media management, understanding what works for different social media platforms, brand persona and target audience.
Participants in this program are likely to find their training useful in the creative industry, ad agencies, media firms, NGOs, and other relevant industries.
COURSE CONTENT
The Evolution of Advertising That Works

Creating Unswipeable Copy and Content

Writing For Radio and Screen

How to Work out the Truth

Minimalism/Visual Storytelling

Introduction to Social Media

Understanding Brand Archetypes

Content Marketing for Freelancers
ENROLLMENT DETAILS
Training for Whom
This course is especially for those who want to help brands tell their stories in a compelling way. Participants in this program may either be professionals who want to enhance their communication skills or individuals who are passionate about communicating in the most creative way possible.
How To Register
To participate in this program, interested persons must purchase and fill the OCCD Enrollment Agreement Form (see payment link at the bottom of this page). The filled form is to be submitted in pdf format to info@cluborangeng.com with the subject line (Your Name – OCCD Registration). For example, Funke Thomas – OCCD Registration. A reply will be given within 48 hours.
If participant is being sponsored by an employer, please indicate this in your email and provide the name of employer (i.e. name of company) and name of individual authorizing payment with official designation if possible.
Training Schedule
The next class of OCCD is scheduled to begin on 10th July 2021. Training takes place only on weekends. 10 am to 5 pm on Saturdays and 2 pm to 5 pm on Sundays. The duration of the program is five weekends.
The current tuition fee of this program is N120,000 only. However, training can be accessed at a discounted fee of N96,000 only, provided tuition will be paid in full before training begins. The registration fee is N1,000 only and non-refundable.
FURTHER INFORMATION
OCCD training is currently conducted in-person, but can be moved to a virtual set up only as circumstances dictate.

All fees paid to the Academy become non-refundable upon the commencement of training.

For further enquiry, please send an email to info@cluborangeng.com or call 07045863980, 09099672193, and 07064384235.
FILL THE REGISTRATION FORM BELOW